Matarangi Beach Enduro Race
05/03/2022 @ 11:00 am

-

5:00 pm

Free – $125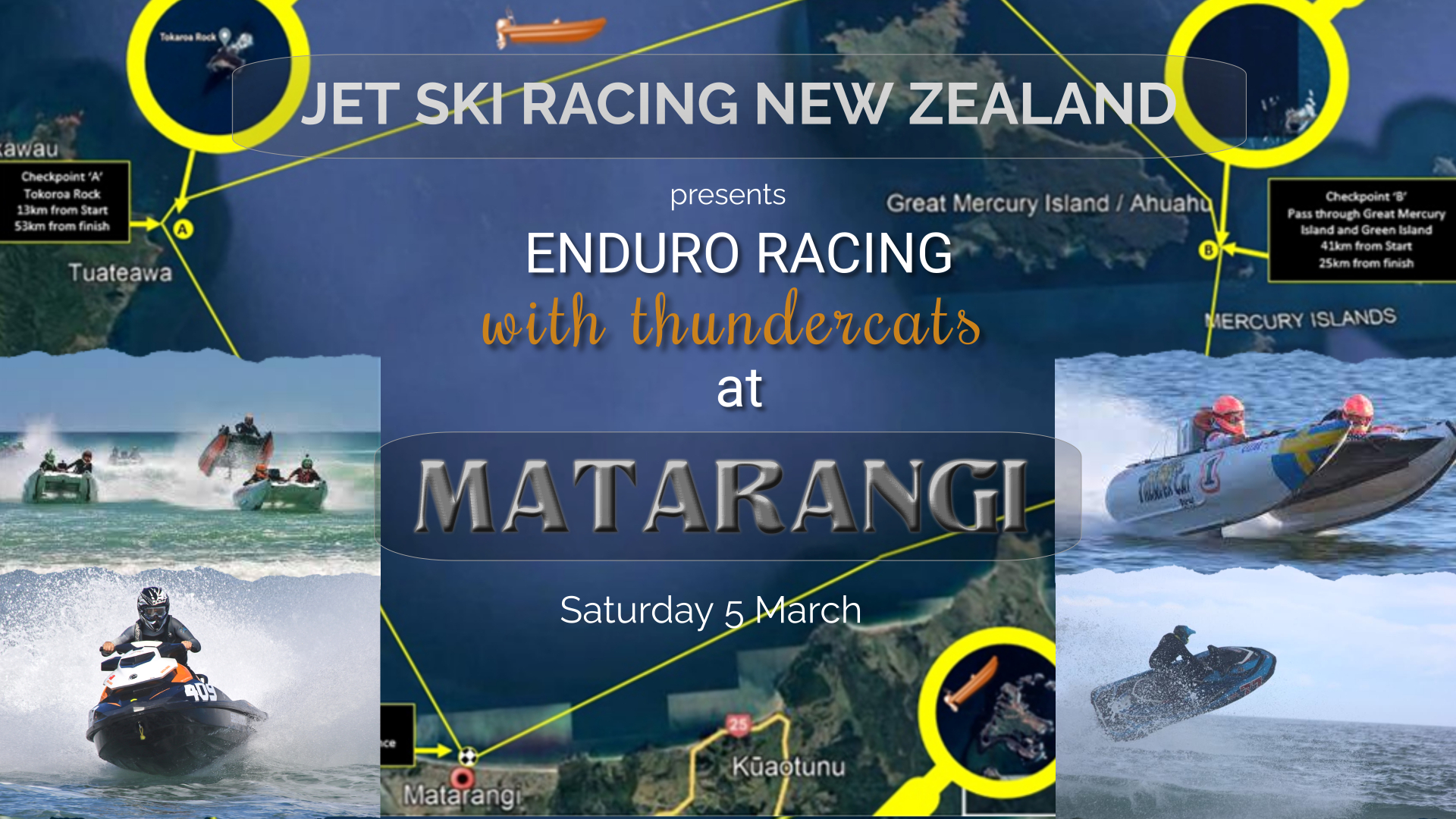 We are excited to finally announce the First Round of the 2022 Summer Series on Sunday 5th March at Matarangi Beach, jet ski racing with the thundercats.  This stunning beach on the Coromandel Coast has it all; a long surf beach, perfect for swimming and a big sheltered harbour.   Vehicles are allowed on the beach.  Bring a gazebo and pickup a tasty lunch from the bakery at the small shopping centre up the road.
Racing with Thundercat Racing New Zealand is always fun.  This year they will complete their short course racing off the beach before the Enduro event.  Come early and watch the crazy speeds the boats reach and the antics of the drivers.  It's a great spectator sport.
AND ….. there will be spot prizes on the day and prize money for place-getters.  So make sure you stick around for prizegiving after the event!!
MEMBERSHIP
Membership fees are due at the start of the new race season.  Your very first race event with JSRNZ is complementary, but after that the cost of membership is $20 for Individuals and $30 for Family membership (to qualify for a Family membership both members must reside at the same address).
RACE LICENCES
The 2021 Race Licences have now expired.  A Day Licence is included in the event registration fee. The cost of the Full Annual Race Licence is $150 (and a full medical exam). Please go to our website to find out more: https://jetskiracingnz.com/membership/license-application-form/
FIRST TIME RIDERS
First Time Riders are very welcome!  You will be fully supported by experienced riders from beginning to end.  Prior to competing, new riders should familiarise themselves with the class their ski qualifies for.  You'll find everything you need to know in our race information.
RULES
All riders MUST read and comply with our Race Rules. This includes NZ Supplementary Rules.
Novice Riders please pay particular attention to Supplementary Rule 301.01.17 – In local events all new riders and those who have competed for less than two years, will compete as a novice, at a maximum competition level of GP2.
SCHEDULE
11:00am         Registration and Scrutineering
12:00am         Rider's Brief
1:00pm           Approximate Time for Racing (one hour after the Thundercat Racing short course ends)
4:30pm           Prize Giving on the beach
So throw open the shed and come jet ski racing with the thundercats.  We look forward to seeing you all there!  Bring your friends and family!
REGISTRATION
The race fee of $125 includes your Day Licence.  While this is payable by cash only on the day, we would appreciate payment to be made direct into our account, prior to the event.