Winter Racing, 2021, Round 2 – Ohope Beach
31/07/2021 @ 9:00 am

-

4:00 pm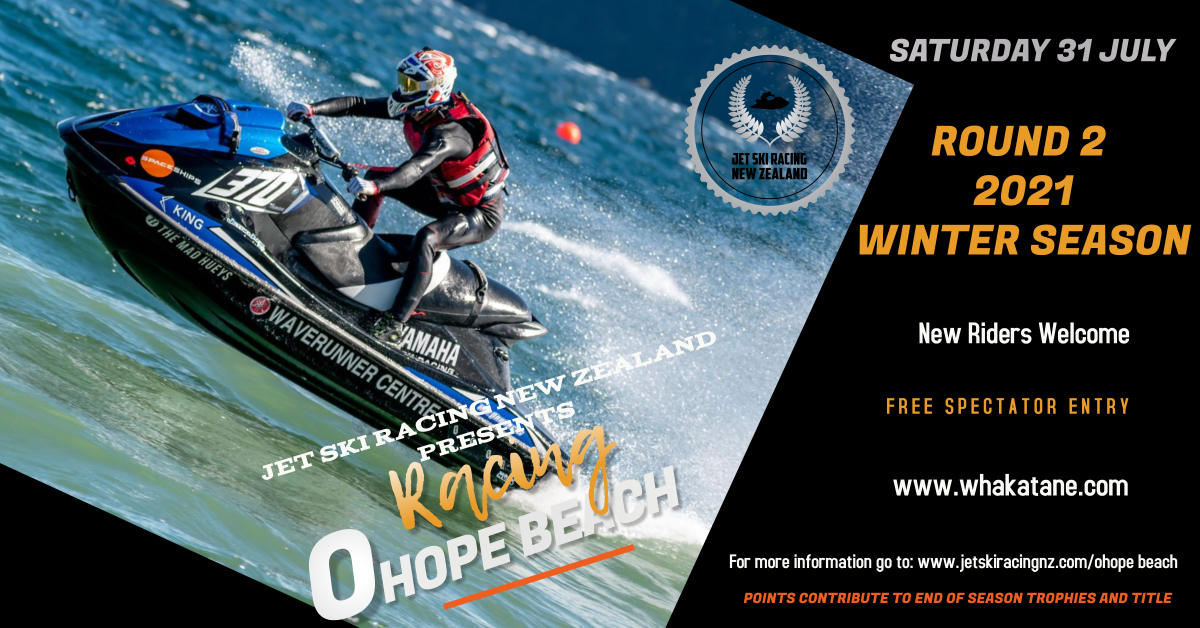 This will be the first time Jet Ski Racing New Zealand has raced at this picturesque location, in the Bay of Plenty.  Surf racing has long been a feature of our Winter series and this event is no exception.  Raced around a simple surf course, riders will line up in their eligible classes and compete for points towards end of season trophies and titles.
The 1pm high tide will provide perfect conditions for racing.
Registration will commence in the Mair Street Reserve, next door to the Whakatane Surf Life Saving Club at 9.00am on 31 July.  Riders must complete Race Entry and pay by 10.15am.
All skis will be scrutineered between 9.30 and 10.15am.  No ski should be launched until it has been scrutineered.  See scrutineering checklist here
Early Bird entry fee is available until midnight on 29th of July.
All riders must also attend Riders Brief at 10.15am on the beach.  This briefing will provide you with all racing information you require and you'll be then able to test ride the course with a marshall, prior to racing.
Racers will require a life vest and registered ski, a motorcross style helmet with chin protection (Dot or Snell) and a back brace.  Footwear, goggles and gloves are recommended.  All skis must be fitted with a tow loop.
All skis must have a legible number, able to be read 30 metres from shore.  You may, for your first three races with the club, use the last three digits of your ski registration number for this purpose.  This is the number you will enter on the race registration form.
This event will be raced for points towards the End of Season Placings.
To establish the class you will be riding in, see NZ Supplementary Rules
If you need to book accommodation try these links: Motels,  Holiday houses,  Bookabach,  Airbnb, 
Timetable
9.30am – Registration  for all Riders.
9.30am -10.15am – Scrutineering
10.30am – Rider's Brief
11.00am – 11.30am – Racing Starts