Winter Racing, Round 2 – Onehunga, Auckland – 19 August, 2023
August 19 @ 8:00 am

-

5:00 pm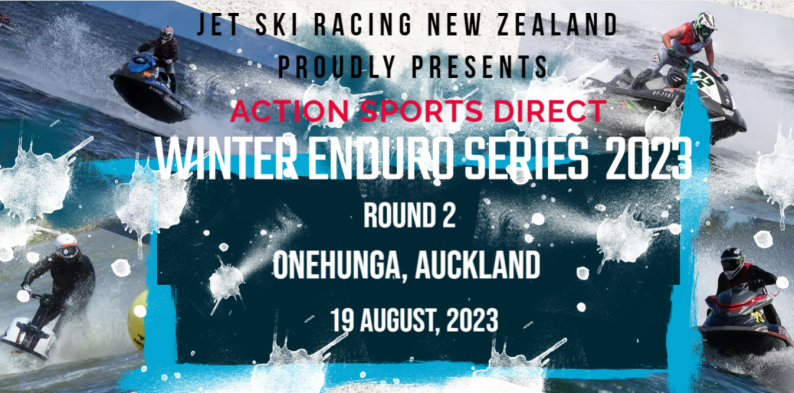 This venue sits right under Auckland's Western Motorway and creates quite a spectacle for motorists crossing  Mangere Bridge.  Our site is on a small peninsula with excellent viewing of the course for public and photographers.  There's plenty of parking at the boating club adjacent to the venue and good grass areas above the beach for sitting and erecting gazebos, so bring the whole family.  Prizegiving will take place at the Boating Club at the end of racing.  You can launch at the Mangere Bridge Boat Ramp at the venue.
Stock & modified and skis all race together in Enduro events, providing an easy introduction to racing for new riders. You simply follow the leader. Points are allocated to the riders within their appropriate class to establish the placings. We will be running both runabout and pole ski classes on the day.
Come along, and enjoy a great day out!
What You'll Need
You'll need a full-length wetsuit, gloves, boots, helmet, windbreaker or tour coat.  Apparently, fleecy kitchen gloves under your racing gloves help keep your hands dry and insulated against the cold.  And don't forget to bring your beanie, towels and warm clothes for afterwards.
Race Fees
Race Fees should be paid online prior to the event with your name as a reference.
The race fees are as follows:
Early Bird:
$120 if you register online by the 16th August.
Standard Entry Fee:
$150 for registration after the 16th August.
Race Licence
All riders will require a valid race licence. The cost of a Day Licence is $40, to be paid in addition to race entry, at the time of registration. (If you raced the Summer Series you'll very likely have an Annual Licence).
Race Schedule
Runabout Skis and Pole skis will run separately.  Runabouts will compete in three, thirty-minute races (plus a lap) and pole skis will have one 40 min race (plus a lap). (An additional pole ski race may be agreed on the day depending on conditions).
| Process | Opening time | Close time |
| --- | --- | --- |
| Gates open | 9:00am | 5:00pm |
| Rider Registration | 9:30am | 10:15am |
| Scrutineering | 9:45am | 10:30am |
| Riders Brief | 10:30am | 10:45am |
| Look Laps | 10:45am | 11:00am |
| RACING STARTS | 11:15am | 1:00pm |
| Lunch | 1:00pm | 1:30pm |
| RACING CONT. | 1:30pm | 3:30pm |
| Prizegiving | 4:00pm | 4:30pm |
Prize Giving
Prize Giving will take place on the beach at the conclusion of racing, at around 4pm.
The Venue
Mangere Boating Club, 32A Kiwi Esplanade, Mangere Bridge, Auckland.
Accommodation
If you need accommodation there are plenty of hotels and motels within 10 minutes of the venue (which service needs of the Auckland airport) at very reasonable prices.