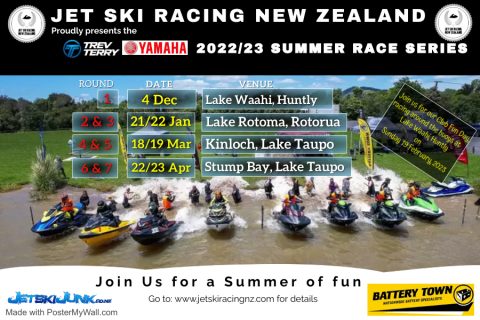 The Summer Series racing season dates have been set!
Round 1 – Sunday 4th December at Lake Waahi, Huntly
Rounds 2 & 3 – Weekend of 21 & 22 January at Lake Rotoma
Rounds 4 & 5 – Weekend of 18 & 19 March at Kinloch, Lake Taupo
Grand Prix Rounds 6 & 7 – Weekend of 22 & 23 April at Stump Bay, Lake Taupo
Final series points will be scored over the rider's five best rounds of the season.
---
Race Licence
All riders must have a Race Licence in order to compete.  If you are a new rider and have raced less than three times (in total) you may enter an event on a Day Licence ($40).  All other riders must hold a season licence.  The new Season starts from the start of the Summer Series.  The cost of the Season Licence is $150.  You will also need to visit your doctor and pass a medical examination.  Details on licencing can be found here.
---
Membership
In order to race with our club you must be a member (payable after your first race meeting).  Cost of single membership is $20 a year, or $30 for a family.
---
This season we are excited to also bring to you two Welcome to Racing Days! These FREE fun days will be held over 2 dates at Lake Waahi, Huntly, on Sunday 20th November & Sunday 19th February, keep checking our Facebook page for more info!  Bring your jet ski and enjoy a day out, and a free barbeque lunch with Jet Ski Racing New Zealand.