Here you'll find all the information you'll need to help you get organised and ready for racing.  We're excited you'll be joining us and we'll help you with any support or advice you may need.  We're a really friendly group aged 13 and 60.  No matter what size ski you own you're welcome to take part in our racing events.
During the race season you'll experience racing in a variety of formats, including:
Closed circuit, short course racing; and
Enduro events; and
Racing alongside other power boating disciplines like Thundercats and Off-shore powerboats.
If you want to race with us, you need to join the club.  You must do this after your first race meeting in order for your points to be carried forward into end of season totals.
Race Number
Many local councils now require jet skis to be registered.  In completing this process you will be provided with a number for your ski.  As a member of Jet Ski Racing New Zealand, you'll choose a race number with two or three digits.   This will replace your regional council registration number for as long as you retain your membership.  The number must be displayed on both sides of your ski, printed black (Arial Black) on a white background, at a minimum size of 250 x 250 mm.  Your number must be clearly visible from 50 metres.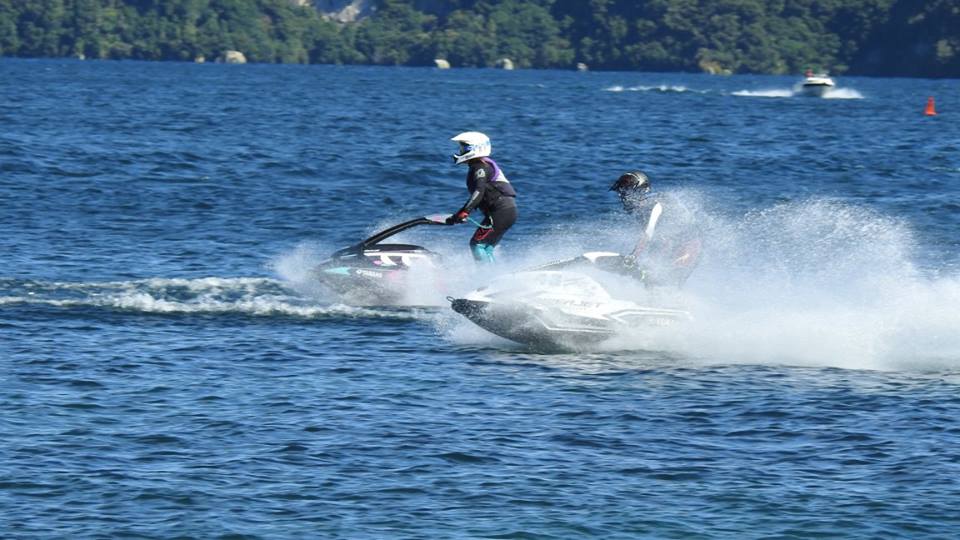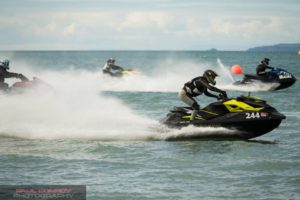 Race Classes
Sections in bold are additional supplementary rules for NZ Events only
| | | | | |
| --- | --- | --- | --- | --- |
| Category | Class | Rating | CC | Comments |
| Runabout | GP4 | 110HP | 1050cc | Includes Sparks & Blasters. *Ref. pp.132-134. |
| Runabout | GP3 | Max 200HP |   | Stock, limited modifications. *Ref. pp.134-137. |
| Runabout | GP3SS | Max 200HP |   | *Showroom Stock.  No modifications |
| Runabout | GP2 | Over 200HP | | Non-Turbo. *Ref. pp.138-141. |
| Runabout | GP2SS | Over 200HP |   | *Showroom Stock. No modifications |
| Runabout | GP1 | Over 200HP | | *Ref. pp.141-142.. |
| Ski | GP3 | | Max 800cc | Includes Stock & Lites.  *Ref. pp.123-126 |
| Ski | GP2 | | Max 850cc | Excludes 4 strokes.  *Ref. pp.126-130 |
| Ski | GP1 | | Over 850cc | Includes 4 strokes and Turbos. *Ref. pp. 130-131 |
*Showroom Stock – As supplied by relevant manufacture. The addition of foot-holds is allowed on all skis, in all divisions.
* Page (pp.) references relate to the UIM Rule Book, found here:
If you're in doubt about what class you can race in feel free to contact us or ask an official on the day.
If this is your first season of racing you must race a manufacturer's stock ski and are not eligible to ride in GP1 or GP2.  You will also be required to wear a hi-vis vest at each event during your first season of racing.
A minimum of three ski entries are required per class for points to be awarded for a single event.  If there are insufficient numbers received to warrant the racing of a separate class, the rider entry will be transferred to a higher class and will score points in this class.
Race License
In order to race you must have a Race License.  If you are new to riding you may, for up to three events, race on a Day Licence.  After this you must apply for a Season Licence.  This is valid from the start of our Summer Series through to the end of the following Winter Series.  To be eligible for a Season Licence you must visit your doctor and pass a medical examination.  The doctor will complete the medical form.  When this is complete, submit the form to the Club Secretary, make the payment ($150) and you're up and racing
What to bring
You'll want to pack your own food and refreshments, if we're racing at a remote location, and you'll also need some towels and warm clothes.  Many riders bring gazebos for shelter.  And don't forget your sunscreen!
Personal Equipment
Before you can race you'll need to make sure you have the following gear:
Personal Flotation Device (PFD) – rated 3 or 5
A long wet suit
Goggles
A properly fitting moto-x type helmet (Snell or N.A standard) with chin protection
Closed footwear
Gloves (recommended)
Independent dorsal protection/ Suitable Back Brace.